Bob Marley song 'War' was inspired by Haile Selassie I speech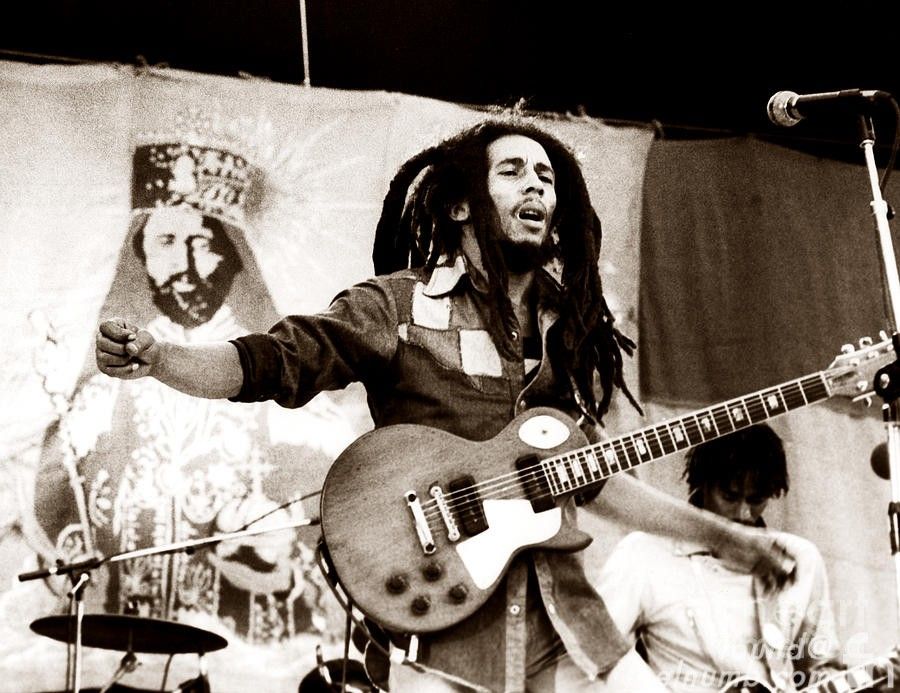 Bob Marley, inspired by the Bible and Haile Selassie I released the song titled 'War' on His 'Rastaman Vibration album in the year 1976. Bob Marley's 'Rastaman Vibration' to date is one of the most miltant album by the Reggae singer.
Although a number of songs on the 'Rastaman Vibrations' would go on to be a Marley classic. None stands out more than the song titled 'War'. The 'Rastaman Vibration' was his follow up album to 'Natty Dread'.
The inspirational speech by H.I.M Haile Selassie I made to the United Nations in 1963, was suggested by Marley's close friend in Alan  'Skill' Cole. 'Skill' Cole, a Jamaican football star,
purchased a pamphlet with the speech by H.I.M and urged Bob to record it. "It hit me very strong with that particular tune," Cole said, "Because of Haile Selassie's statement within it. It was the first time I was hearing statements like that."
On the back cover of the album, Marley boldly affirmed his membership to the Twelve Tribes of Israel, a Mansion of Rastafari, by printing the Biblical Blessing of Joseph:
"Joseph is a fruitful bough, even a fruitful bough by a well; whose branches run over the wall. The archers have sorely grieved him, and shot at him, and hated him; but his bow abode in strength, and the arms of his hands were made strong by the hands of the Mighty God of Jacob." – Genesis 49
Speech made by H.I.M Haile Selassie I that inspired Bob Marley
However, on the question of racial discrimination, the Addis Ababa Conference taught, to those who will learn, this further lesson:
That until the philosophy which holds one race superior and another inferior is finally and permanently discredited and abandoned;
And that until there are no longer first class and second class citizens of any nation;
That until the color of a man's skin is of no more significance than the color of his eyes; And
That until the basic human rights are equally guaranteed to all without regard to race;
That until that day, the dream of lasting peace and world citizenship and the rule of international morality will remain but a fleeting illusion, to be pursued but never attained.
And until the ignoble and unhappy regimes that hold our brothers in Angola, in Mozambique and in South Africa in subhuman bondage have been toppled and destroyed;
Until bigotry and prejudice and malicious and inhuman self-interest have been replaced by understanding and tolerance and good-will;
and until all Africans stand and speak as free beings, equal in the eyes of all men, as they are in the eyes of Heaven;
Until that day, the African continent will not know peace. We Africans will fight, if necessary, and we know that we shall win, as we are confident in the victory of good over evil.
War in Babylon
During that year of 1976, the topic of 'War' was certainly of importance in Kingston during the election year. As political violence surged through the capital between the two political parties.
Soon, the words of the "Blessing of Joseph" would take on an almost mystical connection to Bob Marley.
Marley had agreed to play a free concert, "Smile Jamaica," to help ease political tensions on the island. He hoped the concert would serve as a catalyst to bring the warring political factions together.
He would soon come to realize, however, that the politicians had no such hopes. They only wanted to exploit Bob Marley's popularity for their own personal gain.
His scheduled appearance at the concert was manipulated to look like an endorsement of the Prime Minister, and the stage was set for an attempt on his life.
Ambush in the Night
Just days before the show, during a break from rehearsal, Marley's 56 Hope Road compound was ambushed by gunmen. They fired a barrage of bullets into the kitchen where Marley was eating a grapefruit,
hitting him in the arm and chest. His manager Don Taylor, who was also in the kitchen at the time, took many of the bullets meant for Marley.
In an interview, Marley later credited surviving the assassination attempt to a dream he had a few nights before. Though wounded, Bob Marley escaped with his life. And he was undeterred.
The concert could not be stopped by political gangsters. He had to perform, now more than ever. Stepping onstage only days after being shot –
his wounds still bandaged – Marley immediately launched into an impassioned performance of "War" to start the show. Haile Selassie's words served as a clear message to the politicians involved.