Emperor Haile Selassie I's relations with Empress Menen
Many people have little to no information on Emperor Haile Selassie I and His relations with Empress Menen. Even from the time of RasTafari's marriage and thereafter, little is known.
The history of RasTafari, without a doubt can help anyone who is seeking RasTafari or is already on their journey in the faith. These history can better teach us how to live and the way of life from HIM Haile Selassie I.
Clearly, RasTafari had deep affections for His Empress, and today we'll take a look at just how much love and affection was shared between the Emperor and the Empress.
His relations with the Empress
His relations with Empress Menen are an index to His simple, unchanging character. He married her twenty years before He began His struggle for  the throne and has never had a cause to regret His choice.
She has been a loyal helpmate in countless ways of which the outside world knows little. And it is perhaps most to her credit that where she could not help she has not hindered..
While she is intensely religious she has never allowed her devotion to the Church to make her and the ally of the priesthood in their attempts to check on her husband's plan.
In some of these she has, in fact, been of great unsuspected assistance to HIM. Since not only is she influenced by the priest- she is not without her influence on them.
The Character of Empress Menen
In the matter of hospitals, especially, has she done good work. For the rest, knowing that she cannot assist the Emperor in His relations with foreign countries
She remains discreetly in the background attending few ceremonies. With the outbreak of hostilities she came into the picture as a devoted patriot and her appeal to the women of Ethiopia was powerful and dignified..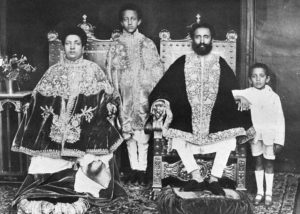 She has borne three sons and three daughters and has shown herself a devoted mother. She has of late years however, centred her thoughts more and more upon the future life,
And has lost much of her interest in the affairs of the world.
The affection between the Emperor and His wife
The Emperor shows her great respect, and by His considerate treatment of His wife and His high moral standards has set a fine example to His people.
Even those who like HIM least can have no grounds for criticism in His marital life. In the midst of pressing affairs Haile Selassie would always give priority to a letter from His wife
And He would deal with her requests with generosity and with scrupulous attention to detail..
It was clear that the affection between the Emperor and His wife had remained undiminished.
Conclusion
Clearly the relations between the Emperor and His wife is a standard in which we of the faith and those seeking RasTafari to emulate.
Empress Menen was the perfect example of the Royal daughters of Zion, portrait of the virtuous wife. She is a fine and perfect example for the daughters of the faith to follow.
We must seek knowledge and leave no stones unturned, seek knowledge and wisdom and further your strength in the ways of Jah.
We must remember to true way of RasTafari is the orthodox way of life. One must study to shew thyself approved. Seek out the history of RasTafari.
Know where we are coming from in order to strive to where we need to be, with Jah in holy mount Zion when the time comes. I pray this article may help you along your journey and on your path.
Most of the information was by Princess Asfa Yilma in 1931, Jah bless the Royal house of David. Long live the Emperor, be blessed. Selah.