The reason why the rancour between RasTafari and Ledj Iyasu began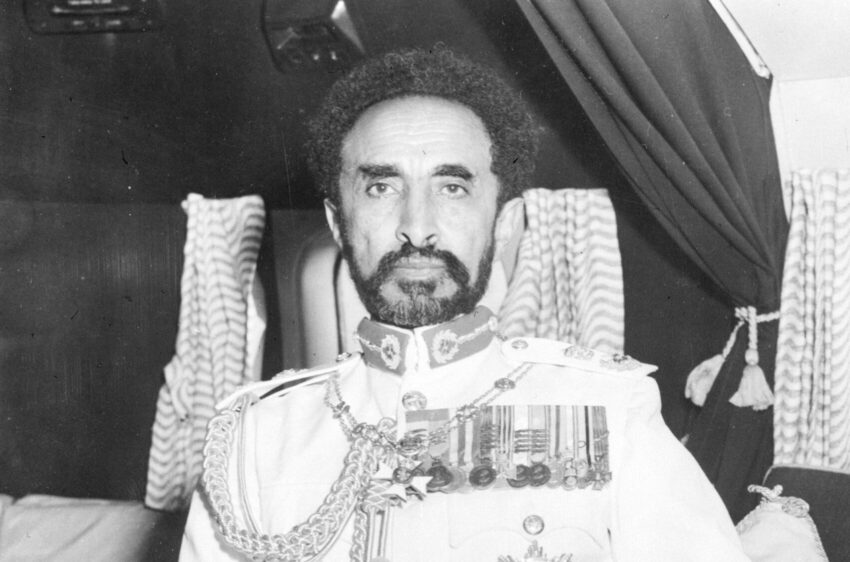 The rancour between RasTafari and Ledj Iyasu began after RasTafari's appointment to the governorship of Harar. Although it was a time of joy, the same time RasTafari got married to Empress Menen.
RasTafari's joy began to progressively change into sadness, the reason for which is as follows:
After the death of Ras Bitwaddad Tasamma, who had been Ledj Iyasu's guardian and regent of the Empire. No other guardian had been appointed for Ledj Iyasu.
Unfortunately, the latter thus sought in everything the company and counsel of worthless men. Men who only wanted their own immediate profit, while the great nobles and ministers became hostile and removed their hearts from him.
Furthermore, when Ledj claimed, by virtue of his Wallo descent, to be descended from the Prophet Muhammad. This counting back some forty generations, and when he worked for a meeting and rapprochement in faith with the Muslims.
Whenever advise came from anyone, he would not accept it: 'lay off, for it is this sort of thing that will bring damage upon your government and upon yourself.'
In all these things, he was very much aware of everybody's hostility. And instead of watching things by being in one place, he did a great deal of roaming about.
Joyfully invading tranquil provinces and killing people, the blood of many was flowing. When he returned from his tris, the nobles and ministers, tendering advice and getting angry.
All despaired when they realized their inability to restore his mind to sanity.
Advise to Ledj Iyasu to diminish ranks
However, there were some who advised him as follows: 'If the honour of the great nobles of Menelik's time were reduced and their rank diminished.
Then it would be convenient for you to raise to office the humble; it would assuredly result from this that these minor figures will respectfully love you alone.
With their support you'll be able to act as you wish and to destroy your enemies.' As this appeared to him to be true, he began to strive to bring this about.
Ledj conspires against RasTafari
Ledj himself came upon RasTafari at Harar in 1907 (= 1914/15 in the west), summoned my army's officers and the great among the peasants, and asked at a secret meeting:
'Tell me if there's a wrong that Dejazmatch Tafari has done you.' He then granted audiences while giving advice to my detriment, stayed for a few days and then returned.
This knowledge was heard from men who had actually been questioned.
Afterwards, in Genbot (= May 1916), he summoned RasTafari to Addis Ababa; and they were there together for about two months.
Ledj takes off to Harar without informing RasTafari
Ledj set out from Addis Ababa by night on 21st Hamle (= 29th July), without informing RasTafari. Boarded the train at Akaki, and the next morning RasTafari heard about his descent to Harar.H
Because Ledj had not given RasTafari prior information (for the title to the Harar governorship was RasTafari's). RasTafari thought that it should not appear he was hostile to his journey there.
Therefore, RasTafari wrote him a letter as follows: 'If you are staying at Harar, let me come there; if you are returning to Addis Ababa. I shall return together (with you).'
When the letter had been sent, Ledj wrote back on 28th Hamle 1908 (5th August 1916) as follows: 'I had told Bitwaddad Hayla Giyorgis that he should inform you of the reason why I came to Harar.
If you were to come to Harar and then return with me to Addis Ababa, come to Harar now and then return with me to Addis Ababa. The railway deficit would be very great for you, because your army is so numerous;
Hence stay there. If I were to stay here for a long time, I would write you again.'
Evil men come between RasTafari and Ledj Iyasu
When Ledj entered Harar city, evil men, who tendered advice that he should dismiss Dejazmatch Tafari from the governorship of Harar and appoint himself.
Therefore, on 7th Nahase 1908 (14th August 1916) he summoned RasTafari deputy, Fitawrari Gabre. Giving orders that all the camping places in the hands of Dejazmatch Tafari's servants be seized-
Apart from those occupied by government troops. He then transmitted the following orders by telegram to Bitwassas Hayla Giyorgis: 'I have assumed, with immediate effect, the governorship of Harar.
I have given the governorship of Kaffa to Dejazmatch Tafari; let him be told.' RasTafari was informed that he was to go to Kaffa at once, as these were Ledj Iyasu orders.
When the people at Addis Ababa, great and small, heard this, they declared openly: the fact that he (Ledj Iyasu) is taking away the governorship of Harar from Dejazmatch Tafari is not so much for the governorate.
But because he has been converted to Islamic faith and for the sake of further rapprochement to the Muslims.
Ledj Iyasu ignores advice given to help neighbours
Even though Ledj cannot help Ethiopia's neighbours at the frontiers, with armed force, it would be good if Ledj would at least assist with provisions. That is, with food, yet this advice he ignored.
Instead, he begun on an exchange of secret correspondence with the peoples surrounding Ethiopia. The Adalites, and the Somalis, with the view of resisting the Allies.
But as the representatives of the three governments resident at Addis Ababa had discovered this exchange of secret letters.
They made an official approach and, it is reported, presented [the correspondence] to Bitwaddad Hayla Giyorgis.
Ledj Iyasu Deposed, RaTafari appointed as Crown Prince and Regent
When the leaders of Ethiopia found out about this whole affair, they became convinced of the need to depose Ledj Iyasu.
But as it appeared to them likely that their secret would be betrayed if they were assembled together for consultation. They chose servants as trusted messengers and began to correspond through them as go-between.
But some met by night at a hidden place and, after talking to each other face to face, separated again. Others again were asking: 'Inform us first about the successor once Ledj Iyasu is Deposed';
But the party which approved of Ledj Iyasu's deposition began to grow steadily, since they gladly accepted the opinion when they were told:
'We shall put Emperor Menelik's daughter, Wayzaro Zawditu, on the throne and shall appoint H.H Ras Makonnen's son, Dejazmatch Tafari, as Crown Prince and Regent.
Conclusion
Seek truth, seek the history of RasTafari and know the truth for yourself. Learn about your roots, especially those who see themselves as one with RasTafari.
Without your roots, can't be a tree, O mighty Jah, plant us by the still waters. Deliver us into all truth and righteousness, let not our enemies confound us. Let thy word, given unto us through the Holy Bible, be our guide and our light.
Let the words of the Most High Jah be your refuge and strength. Therefore I encourage you, let not for a lack of knowledge suffer you to perish. I pray the Father to lead us and guide us in these times.
That we may not be weary and lose our way, to keep the knowledge of our past in our hearts and souls. So that it may lead us unto the path of righteousness. Selah.