Doctor Vernon Carrington, Prophet Gad founder of the Twelve Tribes of Israel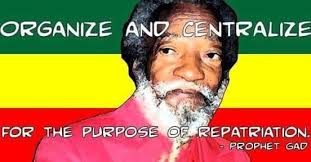 Doctor Vernon Carrington, Prophet Gad founder of the Twelve Tribes of Israel, was born on November 1, 1935. Born at 95 Matthews Lane George Carrington and Elfreda Myrie. George was born in England and met Elfreda, a Jamaican, in Cuba.
They returned to Jamaica where George worked as a store clerk and Elfreda(Miss Freda) sold juice. They had five children of which Vernon was one of twins. His twin sister, Kathleen Carrington(Prudence) passed away some years ago.
In his early years, Vernon promoted dances with Coxsone Sound System while working as a shoemaker in a factory owned by Hanwood Show Company.
He traveled to England in March 1960 and being unhappy, stowed away on a ship returning to Jamaica two months later.
Although, before his return, he promised God to do whatever He asked if He helped him to reach home.
Brother Gad ot his conversion in May 1961 and started to read the Bible and other books pertaining to world affairs. This was done in preparations for himself to go out into the world and meet people.
He moved to his grandmother, Lillian Myrie's house at 7 Davis Lane in Trench Town.
In addition, this was where he was influenced  by her work in the Garvey Movement and membership in the Ethiopian World Faderation.
It was at this house that Vernon began his work to gather the Twelve Tribes of Israel.
Therefore, Brother Gad met Brother Dan 1st and Brother Napthali 1st and began holding meetings every Sunday in Davis Lane.
Brother Napthali 1st read in the "African Opinion" that Reverend Evans had received a land grant in Goba Bale, Ethiopia.
Reverend Evans sent the Ethiopian World Federaton Charter 15 under which Brother Gad started functioning as the Twelve Tribes of Israel
How the Twelve Tribes of Israel came to function
Therefore Reverend Evans was invited to visit organization, who promised to allow brothers and sisters to repatiarte to Goba Bale.
This promise never materialized and Brother Gad and Brother Ivan Coore traveled to Chicago. In addtion, also to Ethiopia, where they discovered Reverend Evans did receive a land grant.
However, due to neglect, it was taken away.  The Ethiopian World Federation was not functioning.
Brother Gad decided that since His Majesty Emperor Haile Selassie I had given a land grant in Sheshemane, Ethiopia.
Land given to all people of African descent in the West, the organization would function only as the Twelve Tribes of Israel.
History of the Twelve Tribes of Israel
The Twelve Tribes of Israel began on February 25, 1968. With the first task being to gather the 49 executive members –
12 brothers and their shadows, 12 sisters and their shadows representing the Twelve Tribes of Israel and Sister Dinah.
It took three and a half years to gather the 49 executive members. During the years to follow, the Prophet sent members to Sheshemane, and estabilished houses in: Trinidad, Tobago, Barbados, St. Vincent,
Grenada, Guyana, Canada, United States(New York and California), United Kingdom(London and Manchester), Ethiopia and more.
He was one of the founders and named the Jamaican Rastafarian Development Community(JRDC) in Sheshemane which is a registered non-governmental organization.
The JRDC currently consists of members of the Nyahbinghi, Bobo Shanti and the Twelve Tribes of Israel mansions.
Brother Gad gathered the members by teaching them to read the Bible a chapter  a day to learn for themselves. In addition, one chapter a day from Genesis 1 for themselves:
That each member belonged to a Tribe of Israel according to their time of birth, and each Tribe represented a different part of the body of Christ.
He pointed to His Imperial Majesty Emperor Haile Selassie I and the Ethiopian royal lineage as the seat of David.
Brother Gad taught repatriation, self-reliance, unity, peace, justice, faith and prosperity. In additon, he taught that whosoever will may come.
Honour of the Prophet
However, Brother Gad is sadly missed by the Twelve Tribes of Israel, his sister Panchita and his children.
Well done Brther Gad, "O thou good and faithful servant; thou has been faithful over few things, I will make thee ruler over many things: enter thu into the joy of thy Lord."
Long Live the Prophet Gad!
In conclusion, this is in honour of Prophet Gad, in his birth month November, the Tribe of Gad. Therefore it is important that we remeber the teachings Propet Gad with love, faith and hope.
Above all, remember the Most High Jah, and to read your Bible for yourself one chapter a day.