Teachings of H.I.M: Rastafari on Unity & Brotherhood Part 1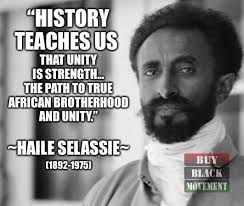 Today, more than ever "Rastafari's" teachings and speech on Unity and Brotherhood becomes even more relevant now than ever. Together we stand, divided we fall.
Mankind has reached a state where we are more divided from one another than we are united for a cause.
We no longer love our neighbours as we love ourselves, yet we know that from the dawn of humanity, we can find the evidence that strength lies in the numbers and without our inseparable belief in, "Unity is strength".
Wise Mind of H.I.M
"Rastafari" addresses the issues on unity and brotherhood and can be found in "chapter 12 of The Wise Mind of H.I.M Emperor Haile Selassie I".
Which will be written and discussed further to remind us of the vital importance in which "unity and brotherhood" is to live the "Orhtodox Way of Life" set forth by the "Almighty" "The Holy One of Israel".
As further declared in the "Holy Bible" from the 2nd book of Corinthians 13:11 which says "Finally, brethren, farewell.
Be perfect, be of good comfort, be of one mind, live in peace; and the "Elohim" of love and peace shall be with you".
Of the many speeches in which "Rastafari" addresses here we will explain a few of those speeches which is today of more value to us than ever before.
"Rastafari" on "Unity & Brotherhood":
" Our greatest asset is our unity, we must exploit it to the fullest".
As mentioned before "Together we stand, divided we fall". When we come together as one we're able to cover each other and strengthen where one is weak.
We can build from pooling our strength together reducing the weakness that was there when divided amongst ourselves.
"People of a country who have fought incessantly for their independence, understand that unity is the foundation of liberty".
A country united against outside forces knows that in order to keep/gain independence in order to truly be liberated, they cannot be divided against themselves.
For in division the enemy(outside forces) will have the advantages of keeping the country subdued. We must understand the true importance of unity, only then can we prevail against the enemy and truly be liberated.
We must organize, centralize and come as one!
"Each of us depends on the other, can learn from the other and in pursuing his own destiny, will go further and succeed more quickly with others".
Unity is Strength
I was encouraged to read the word of the "Holy Bible" for myself one chapter per day. From genesis to revelations to know the truth and to truly understand "Rastafari".
It was the help of another who encouraged me to blog. To spread and teach the knowledge of "Rastafari", for on my own I was lacking.
While another supported me in giving me the funds to establish this free website for all to view.
Now, due to unity and brotherhood of these "bredrens". Thus now further ahead on my journey than without help.
We all need each other in order to grow and pursue our destiny. In learning from each other along the way finding yourself and where you're best placed fit to be effective going forward.
Helping one to realise their own purpose and destiny in the "Father". We cannot bare the burdens of the world alone.
"Influences abound which will not hesitate to divide us, to pit us one against the other and to stir up disharmony and suspicion where only brotherhood and confidence should be found".
We must remember always that even in unity evil forces will still try to penetrate and create havoc amongst where peace, love and unity should dwell.
Be mindful and vigilant and set out not to be covetous to thy neighbours. Do good and good will follow, live in peace and harmony through unity.
Exhortation to meekness and unity
"If there be therefore any consolation in Christ, if any comfort of love, if any fellowship of the "Spirit", if any tender mercies and compassions.
Fulfil ye my joy, that ye be likeminded, having the same love, being of one accord, of one mind. Let nothing be one through strife or vainglory; but in lowliness of mind let each esteem other better than themselves. Look not every man on his own things.
but every man also on the things of others". Philippians 2:1-4